Women in Horror Month has been absolutely wonderful. Honoring so many females who have brought so much talent, poise, and quality material to the industry – whether behind the camera or in front of it.
Before it ends, I want to give tribute to a woman who is a rockstar in the horror community. Vera Farmiga is gorgeous, ruthless, versatile, and a force to be reckoned with. Whether she's conjuring ghosts or mothering the notorious Norman Bates, we love her all the same.
Farmiga has been acting since around '97, but got her first big break with The Departed (2006), a fabulous crime thriller directed by Martin Scorsese with an all-star cast. She also received an Academy Award nomination for Best Supporting Actress in Up in the Air (2009), which is the same year she began to make a name for herself in horror.
JOSHUA
First, however, she co-starred in the 2007 film entitled Joshua with Sam Rockwell, directed by George Ratliff.  She plays the character of Abby Cairn and dominates the screen.
Synopsis: "The arrival of a newborn girl causes the gradual disintegration of the Cairn family; particularly for 9-year-old Joshua (Kogan), an eccentric boy whose proper upbringing and refined tastes both take a sinister turn."
This began her characters' bad luck with children, because almost every horror movie since Joshua has involved a sinister child of some sort.
ORPHAN
Speaking of crazy kids, next we have 2009's Orphan, directed by Jaume Collet-Serra. Farmiga plays Kate and does an excellent job portraying a caring mother who also suffers from addiction and is crippled from pain after losing a child.
Synopsis: "A husband and wife who recently lost their baby adopt a nine-year-old girl who is not nearly as innocent as she claims to be."
Not only is Vera Farmiga amazing, but so is Isabelle Fuhrman who plays Esther, aka the Orphan. Phenomenal and terrifying performances by both actresses. I also really loved the connection between Farmiga and Peter Sarsgaard, who plays her husband. Such a sexy couple… yowza!
THE CONJURING & THE CONJURING 2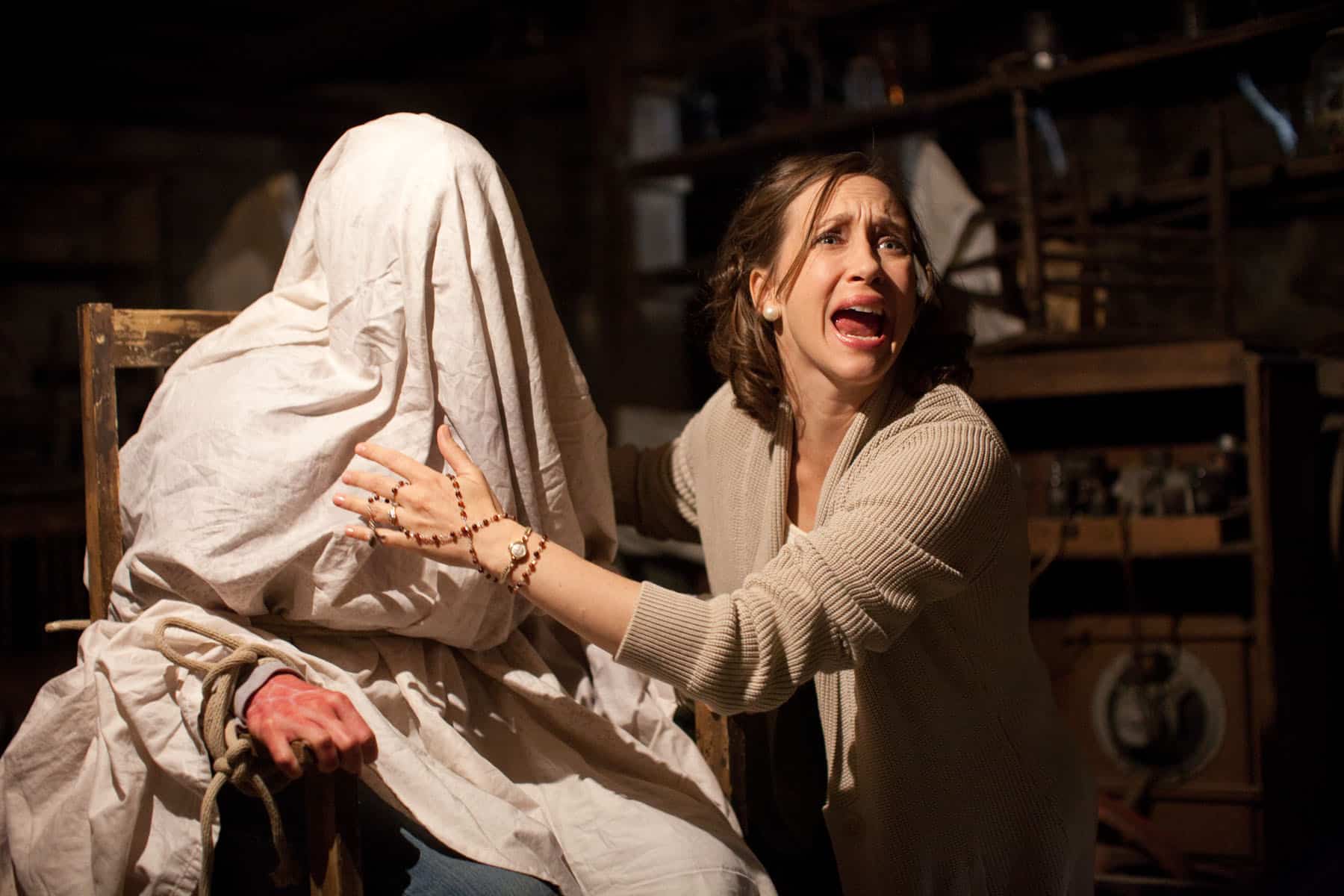 Her next big horror character was in The Conjuring, directed by the one and only James Wan. Playing real-life paranormal investigator Lorraine Warren, the film covers one of Warren's most famous cases.
Her portrayal of such a strong, kind, and courageous woman is exceptionally well done and beautifully told. She came back in 2016 as Lorraine Warren in The Conjuring 2 as the Warrens investigated another paranormal incident in London.
Synopsis: "Paranormal investigators Ed and Lorraine Warren work to help a family terrorized by a dark presence in their farmhouse."
Vera Farmiga took her role very seriously and wanted to give an accurate and realistic portrayal of Lorraine Warren. In an interview with Collider.com, she discussed her time with Warren:
"We had that wonderful experience together that afternoon that we spent. I listened more than I asked. There's a lot of information online, so many Youtube videos, countless interviews with all those obvious questions that were all answered for me. I just wanted to absorb her essence. I wanted to see the details, she has such mad style. I just wanted to see — the way she communicates with her hands, these gestures, her smile, how she moves through space. To me representing clairvoyance, how was I going to achieve that, how I was going to capture that? For me, it all became about her gaze and the way she takes you in. It's a rhythmic thing and a stillness thing to consider but these are little details, little nuances. We were invited to the sanctity of her home and there were roosters running around and she's screaming, "Jackie, be quiet!" Even though she's in the middle of the thing. And these are the details that we wanted to incorporate into our story."
Hopefully we see Farmiga back for a third Conjuring, along with co-star Patrick Wilson who plays Ed Warren. I think they're the perfect duo and their chemistry really brings these paranormal stories to life. The Conjuring is considered one of the scariest horror films of the 2000's by critics and fans alike, and it wouldn't be without these amazing performances.
 BATES MOTEL
Last, but not least, let's give it up for Vera Farmiga in the hit show Bates Motel. It began airing in 2013 and is sadly in its final season. This is where we see Farmiga's finest hour. With each passing season, she's transformed more and more into a character that we love to hate and hate to love.
Synopsis: "A contemporary prequel to Psycho, giving a portrayal of how Norman Bates' psyche unravels through his teenage years, and how deeply intricate his relationship with his mother, Norma, truly is."
Playing Norma Bates, Norman Bates' mom, we see how the famous mother/son relationship developed, working its way to the point of true horridness. I can't picture another actress being able to deliver such a dynamic performance. Norma Bates is complicated, conniving, and selfish, yet also charismatic and easy to love.
I'm sure the last season is going to be fantastic, and Farmiga is going to bring it.
With her beauty, seductiveness, immense talent, charm and ability to dominate the screen, it's easy to see why Vera Farmiga is rocking the genre we love so much. With Bates Motel ending, we're excited to see what she tackles next!