Summer is here and there are plenty of horror movies that will quench your thirsty appetite for fun in the sun and puddles of blood. However, I do have to recommend one that has everything a horror fiend could want, plus more, in the 1988 film, Slugs.
Distributed by New World Pictures, Slugs is based on the novel by Shaun Hutson. The film was released on January 5th and was directed by Juan Piquer Simón (as J.P. Simon). It stars  Michael Garfield, Kim Terry, Philip MacHale, Alicia Moro, and follows the story of killer slugs that are on a rampage to destroy anything that stands in the way of these slimy bastards.
The film has been released a few times throughout the years including 2000, 2011, and 2016. Anchor Bay released the DVD in 2000. Image Entertainment released the DVD in 2011, under the term Midnight Madness Series. Arrow Films, released a special edition Blu-ray in 2016, which is fucking awesome! It has so many great features, including fun interviews that fans will appreciate.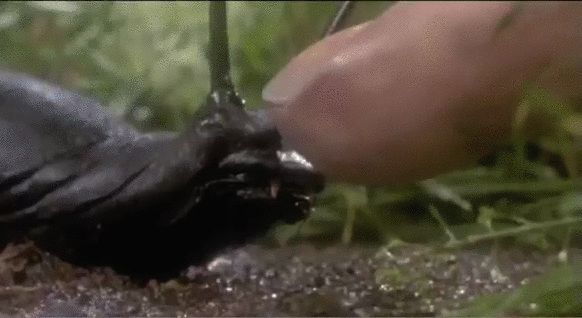 By why does this film still stand out? It's cheesy good fun with oodles upon oodles of blood and gore. What's not to love? Plus, we get man eating slugs! I mean, what a horribly delicious way to die, right?
Best Parts:
Slugs starts out in a rural community and the commentary is subtle, but with humor intertwined. Just enough to make you laugh at least a few times. In true horror film fashion, everyone is oblivious to what is going on around them. The idea of a killer slug is unacceptable reality. Because of this, it makes the kills even more enjoyable, as each comes with a big surprise.
This horror film has some of the most gruesome special effects I've seen. Each kill scene is unique and fun, however, one in particular is always a favorite. After a man's face explodes from getting infected by the Slug slime, the face is eaten away, eyes popping out, and maggots are everywhere. It's as if he had been rotting away for months. It's brilliantly done and one of the most memorable moments throughout the entire film.
Favorite Quotes and Commentary:
"I said get lost, dammit!"
"You don't have the authority to declare Happy Birthday!"
"What's your bright idea Mr. Health inspector?"
"Rats are you willing to go on record for that?!"
"Now maybe, just maybe, we're dealing with a mutant form of slug here, a kind that eats meat!"
"After I've dealt with these slugs, what do you say to we get naked and crazy?"
Overall, I enjoy Slugs more and more each time I watch it – still holding strong after 29 years. If you like nature vs man films, this is the one for you! It definitely doesn't hold back on the blood.