I've always been a loyal film connoisseur thanks to my mom. Although I've seen a countless amount of movies, there are a few special ones that I used to watch repeatedly. One of those was the fantastic horror comedy, Death Becomes Her. This year marks its 25th anniversary, and it gets better each time I watch it. It must have eternal youth.
Death Becomes Her was directed by Robert Zemeckis, co-written by Martin Donovan and David Koepp, and stars Meryl Streep, Bruce Willis, and Goldie Hawn. The film was released in theaters on July 31st, 1992 with an estimated budget of $55 million. It made over $140k and claimed the top spot at the box office in its opening weekend. The film received mixed reviews by critics, but became a beloved classic by many and won an Academy Award for Best Visual Effects.
The story revolves around two women, Madeline (Streep) and Helen (Hawn), who are longtime rivals. When Madeline steals Helen's husband, Ernest (Willis), Helen has a nervous breakdown but eventually pulls herself together to seek revenge. Years later, when the three meet again, Madeline and Ernest's marriage is weary, while Helen is not only drop dead gorgeous, but incredibly successful. Haunted by her age and declining career, Madeline goes on a search to rejuvenate herself through immortality with a magic potion. Young and beautiful forever, what could go wrong?
There's so much to love about Death Becomes Her, but let's start with the story. Honestly, there's nothing quite like it even after 25 years. We all want eternal youth and beauty, but at what price? These ladies will do just about anything for it, and unfortunately, once they get it, all hell breaks loose as they start breaking the rules. It's a hilarious story with a dark tone from beginning to end. My favorite part is when Madeline throws a wooden stick through Helen's stomach. It's hilariously memorable scene.
In addition to the story, the characters are great. Having Goldie Hawn and Meryl Streep as rivals was a brilliant casting choice, and they compliment each other perfectly. They both have bold personalities and deliver strong comedic performances. Along with that, who doesn't love seeing Bruce Willis in a nerdy role? It's not every day you see him playing an obedient and emotionally abused husband who is on the verge of a mental breakdown. It's definitely a different type of character from the rest of his roles, but it came off naturally.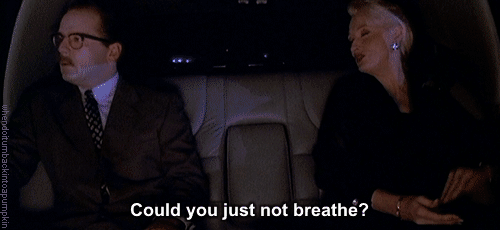 Meryl Streep stated in an interview that "Bruce Willis was charming and that he wanted to do this movie so much. Eager and full of ideas."
I also love everything that came with the magic potion: Lisle Von Rhuman (Isabella Rossellini), her servants, the mansion, the history of the potion and how it works. I always wanted some when I was younger, but now that I'm quickly approaching 30, I think I'll pass.  
Here are some fun facts about the film:
Helen drinks the potion on October 26, 1985, which is is the present date in Back to the Future (1985). Robert Zemeckis also directed that film.
Meryl Streep accidentally struck Goldie Hawn's cheek with a shovel during the fight scene and it left a scar. You can see her talking about it – here.
A pneumatic bra was built to create the effect where Meryl Streep's breasts become higher and firmer after consuming the potion. Unfortunately, the effect didn't look realistic enough, so her dresser stood behind her and pushed her breasts into position.
Several scenes reference deceased musicians and actors. For example: When Bruce Willis's character falls through the glass roof and lands in the pool, Jim Morrison can clearly be seen with a girl.
Here are my favorite quotes from the movie:
"Wrinkled, wrinkled little star… hope they never see the scars."
"This is life's ultimate cruelty. It offers us a taste of youth and vitality, and then it makes   us witness our own decay."
"You're a fraud, Helen! You're a walking lie and I can see right… THROUGH YOU!"
"The morgue? She'll be FURIOUS!"
"Ernest… my ass! I can see MY ASS!"
"On guard, BITCH!"
"'Til death do us part! Well, you girls are dead- and I'm parting."
I really enjoyed watching the film for this retro piece, as well as looking back on the history and fun facts. Each scene is uniquely fun and relatable even after 30 years. If you've never seen it, I highly recommend you do it now. If you're looking to purchase the film, there's a collectors edition version on Amazon.
Death Becomes Her will always be forever young.